Now manufacturers use horizontal Ribbon Mixer in the structure after improvement, the equipment is mainly U-shaped structure, this structure can speed up the work, another device in the selection of components has also been a lot of adjustments, This horizontal ribbon Mixing Equipment in the operation of the process is very stable and reliable, the device also added a double leaf structure, so that the material into the interior of the device can be stable operation, the material can also be more focused on both sides of the device Together, and within a certain time to complete the task of mixing materials, such mixed material greater contact area, during which chemical and physical reactions can be completed.
The use of horizontal ribbon mixer can be mixed with viscous materials processing equipment, processing a wide range of powder materials and liquid materials can also be mixed operation, the equipment in the structural advantages of the processing flow of the There are also many conveniences available, and the equipment uses a full-open door design that makes it easier to clean materials during the job through the horizontal ribbon mixing equipment.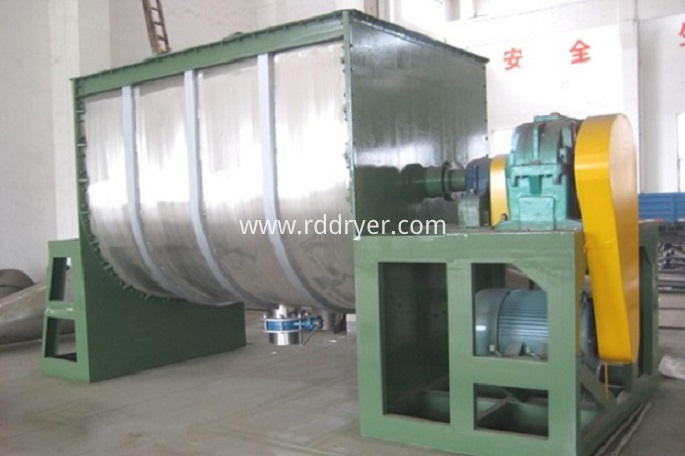 During the material processing through the horizontal ribbon blender, the material will not be grinded, either the fine material or coarse material can be successfully completed the mixing process, the material selection is relatively low, and other types of equipment Compared with the horizontal ribbon mixing equipment in the operation of the more efficient and stable.


Now horizontal ribbon mixer is widely used in the dye industry and pharmaceutical processing industry installation, in addition to the production of refractory and electronic plastic products, the device also plays an important role.

Changzhou Ruide Drying Engineering Technology Co., Ltd
Business Type:Manufacturer
Product Range:Reactors , Mixing Equipment , Other Lighters & Smoking Accessories
Products/Service:Drying Equipment , Mixing Equipment , Granulating Equipment , Sieving Equipment , Grinding Equipment , Conveying Equipment
Certificate:ISO9001
Company Address:Jiaoxi Town, Wujin District, Changzhou City, Jiangsu Province, China, Changzhou, Jiangsu, China
Next:
Flash dryer has the advantages of high thermal efficiency, short drying time and good energy-saving effect